Florida Hires Their First Mental Health Coordinator For Disaster Recovery
The Associated Press has reported that Darcy Abbott has been hired as Florida's first mental health coordinator for disasters. Abbott will help Florida communities hit hard by disasters obtain mental health services.
The article goes on to state that "schools in areas devastated by the Category 5 storm report seeing more children in distress. To address the problem, 63 telehealth kiosks were installed in public schools in August so students can speak to a mental health professional remotely."
On August 8, 2019 First Lady Casey DeSantis announced the installation of Let's Talk Interactive telehealth portals in 63 public schools throughout six counties in Northwest Florida to provide mental health services to students still recovering from Hurricane Michael.
Let's Talk Interactive, Inc. is a complete end-to-end Telehealth solutions provider, arming medical and behavioral health professionals with cutting-edge Health Insurance Portability Accountability Act (HIPAA) video conferencing software, kiosks and medical carts, network solutions, virtual clinics, and safe and secure online video conferencing capabilities while giving those in need instant access to care through its innovative technology platform.
To learn more about our Telehealth solutions, schedule a consultation now.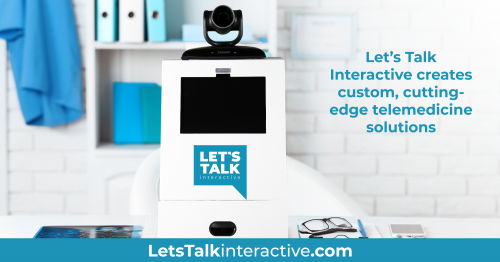 We'd Love to Hear From You!
Our experienced team asks the right questions to understand your unique business and objectives. We utilize a thorough needs-based assessment to suggest the best products and solutions to fit your goals and objectives. Our culture emphasizes the value of creating lasting relationships with our clients, where we continue to grow together.