Telemedicine Carts & Equipment
We offer turnkey solutions built to your needs and specifications.
Let's Talk Interactive has made it simple to integrate and deploy our cutting-edge HIPAA compliant video conferencing software, live analytics, and our telemedicine office suite with a host of equipment and peripheral options.

From solutions as simple as pre-configured tablets, to our exclusive virtual med carts and kiosks with the ability to integrate 42 attachments ranging from EKG, ultrasound, and blood pressure to Tele-Stroke and PulseOX. Analytics are pushed live through the virtual clinic interface to any provider, on any device, anywhere in the world.

Our kiosks have been used in hospitals, assisted living facilities, prisons, rural community centers, and disaster relief zones.

Our solutions are turnkey, fully customizable and can be white-labeled and designed to your needs and specifications. Our goal is to give you the tools and technology you need to enable your practice to offer a level of care that exceeds other options in the marketplace. Contact us today to discuss the options and offerings we can provide to your practice.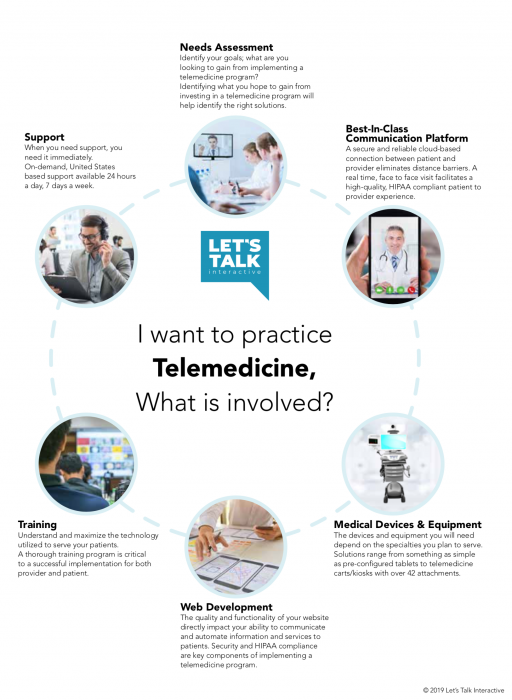 Heading
A short rushing sound leaped out of the boat; it was the darted iron of Queequeg. Then all in one welded commotion came an invisible push from astern, while forward the boat seemed striking on a ledge; the sail collapsed and exploded; a gush of scalding vapour shot up near by; something rolled and tumbled like an earthquake beneath us. The whole crew were half suffocated as they were tossed helter-skelter into the white curdling cream of the squall. Squall, whale, and harpoon had all blended together; and the whale, merely grazed by the iron, escaped.
Ergonomic Features

Small, lightweight design
Integrated push handles
Slide-out keyboard tray with integrated wrist rest
Gas assist work surface height adjustment allows for a full sit/stand range of motion
Four high-quality dual-wheel casters for easy maneuverability
Cart Features
Highly configurable modular design to meet a wide variety of work-flows and use-case needs

Multiple cart options including LCD with uSFF PC, All-in- One PC, Laptop, and Tablet

Supports both hardware and software-based video conferencing solutions

Key-lockable PC compartment with AC outlets

Available in both non-powered or Lithium Iron Phosphate battery technology with three different capacity options

Two-tier locking storage module with high quality foam inserts for device storage and protection
Telehealth Features
Universal PTZ Camera mount
Configurable I/O panel to connect a wide variety of peripheral devices.
Available mounting options for a wide variety of peripheral devices, including:

Multipurpose exam camera
General exam cameras
Otoscopes
Stethoscopes
Headphones
Ultrasound probes ECG with leads Vital Signs Monitor with attachments And more...
We'd Love to Hear From You
Our experienced team asks the right questions to understand your unique business and objectives. We utilize a thorough needs-based assessment to suggest the best products and solutions to fit your goals and objectives. Our culture emphasizes the value of creating lasting relationships with our clients, where we continue to grow together.