How does Clinical Chat work?
Our in-browser chat is encrypted and allows account holders to communicate with their session invitees, or with other account holders in the organization. Messages and files are encrypted at rest and in transit.
Files can also be sent through chat up to 200MB at a time, with a limit of 1GB per day.
Chat messages (as well as files sent through chat) are automatically deleted after 24hrs.
All users can also use our encrypted chat to contact our Support team.
Chat is enabled by default, but can be disabled upon request by your organizations Account Administrator.

Video demonstration:
Start a Clinical Chat
1. While logged into your account, click on the "Chat" tab along the top of the page.

2. Click on the "New Chat" button on the left hand side, in the upper left.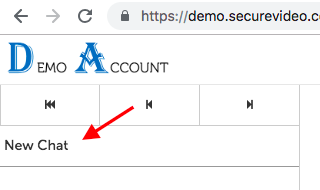 3. You will be prompted to enter information about your participant.